After 11 months of development the MATE Desktop team are pleased as punch to announce the release of MATE Desktop 1.20. We'd like to thank every MATE contributor for their help making this release possible.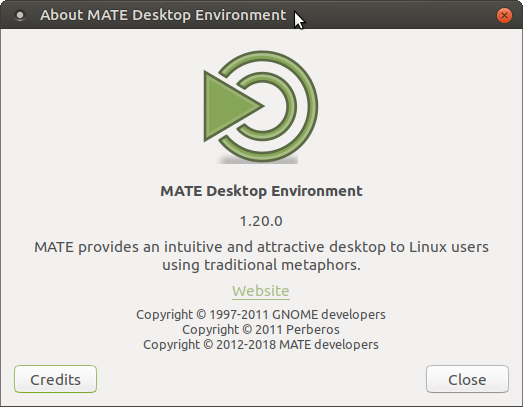 What's new in MATE 1.20
The theme for this release has been stabilising the MATE Desktop by replacing deprecated code and modernising large sections of the code base. We've also improved our window manager (Marco) and added support for HiDPI. Along the way we've fixed hundreds of bugs. Squished 'em dead!
The headline changes in MATE Desktop 1.20 are:
MATE Desktop 1.20 supports HiDPI displays with dynamic detection and scaling.

HiDPI hints for Qt applications are also pushed to the environment to improve cross toolkit integration.
Toggling HiDPI modes triggers dynamic resize and scale, no log out/in required.

Marco now supports DRI3 and XPresent, if available.

Frame rates in games are significantly increased when using Marco.

Marco now supports drag to quadrant window tiling, cursor keys can be used to navigate the Alt + tab switcher and keyboard shourtcuts to move windows to another monitor were added.
Support for Global Menu providers such as vala-panel-appmenu has been added.
MATE Panel has much improved Status Notifier Items (SNI) support.
Bookmarks now support GTK3+ locations.
MATE Terminal now supports background images, adds solarised themes and keybindings to switch tabs.
Atril, the document viewer, has had a massive overhaul and is better in every single way. Yes, all ways. Better!

In particular accessibility support for visually impaired users is considerably improved.
Caret navigation has been added.

The Invest applet has been dropped from MATE Applets.

The API, provided by Yahoo, has been discontinued and there is no reputable drop in replacement available.

Panel applets now size correctly based on the units being displayed and many graphs are dynamically scaled.
MATE Themes have seen significant improvements to fully implement all style classes exposed by GTK 3.22
Engrampa, the archive viewer, has improved support for encrypted 7z archives.
MATE Sensors Applet (finally) supports udisks2.
OpenBSD authentication is supported in MATE Screensaver and minizip in Atril supports more BSD variants.
Translations are updated. Thank you to our team of translators!
A-n-d for distro maintainers we've bumped the minimum GTK3+ and GLib requirements.

GTK 3.22 and GLib 2.50 or newer are required to build MATE Desktop 1.20.

You might see some references to Wayland in the changelog below, don't get too excited. It's not what you think :-)
The various components of MATE Desktop 1.20 are available for download here:
Source: http://mate-desktop.org/blog/2018-02-07-mate-1-20-released/